Location
Edit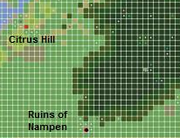 I don't see any place called "Eudaimonia" on the map...
The settlement described on this page has long since been erased from the world – good luck finding the ruins!

Nampen was located to the southeast of Citrus Hill.
Nampen is a former settlement, built by Jacobi, the founder of Citrus Hill.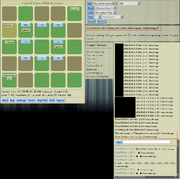 On October 5th, 2009 Nampen was raided by The Marauders and renamed "Pilferer's Paradise." Jacobi immediately fled the area and in his absence The Marauders proceeded to dismantle the buildings. Reinforcements from Citrus Hill were able to briefly able to take control of the settlement due to most of the Marauders not being proper settlement members, but just a few hours later on October 13th The Marauders were able to fell the totem pole, destroying Nampen entirely.1
Nampen was the first village to have organized religion, dedicated to the god Iis.
The name "Nampen" is a portmanteau of "Name Pending," the original temporary placeholder name the settlement was given.
Nampen existed as a settlement for close to 80 days in total.